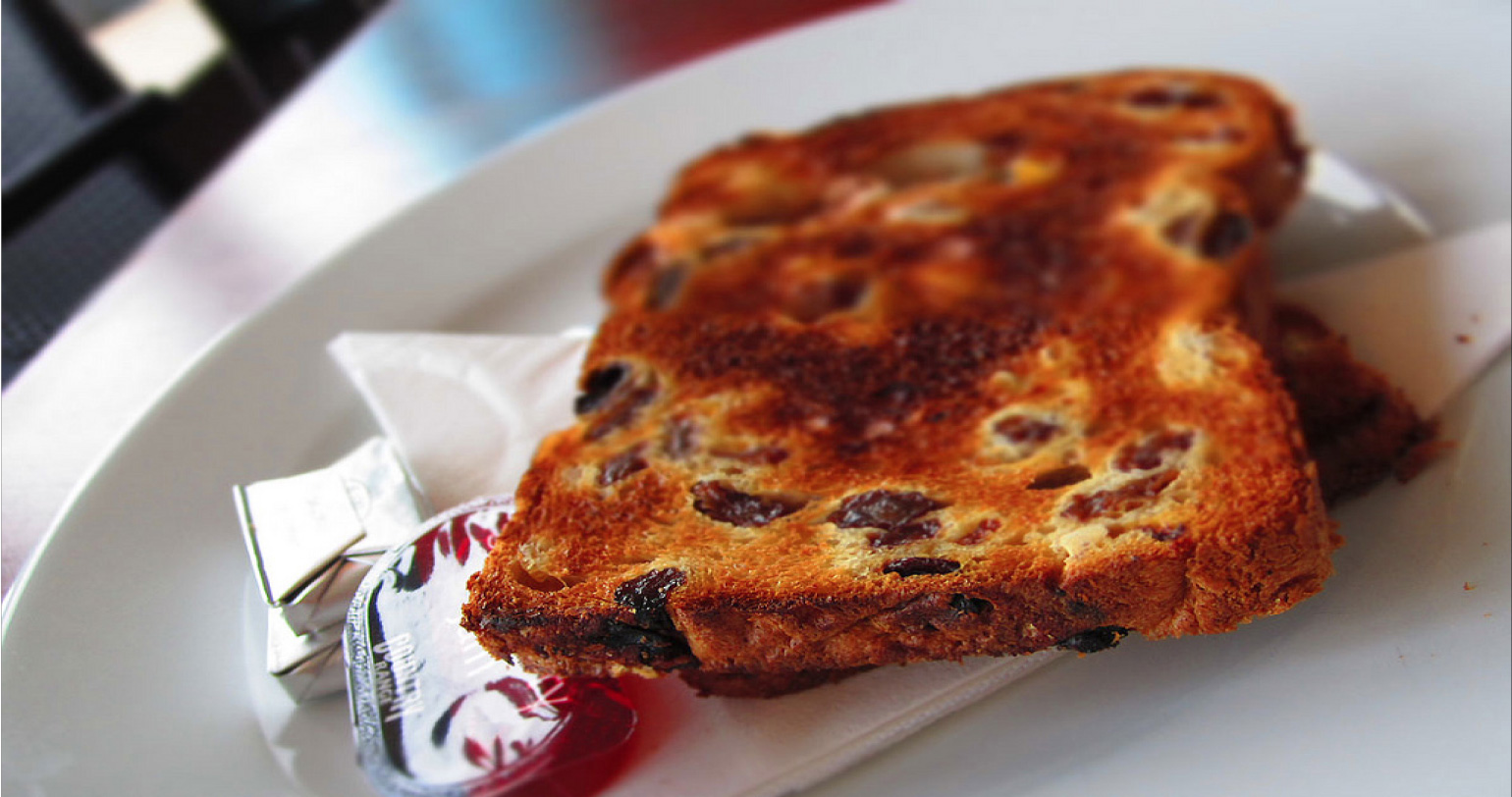 Guernsey Gâche

Gâche (pronounced "gosh") is a traditional Guernsey delicacy made with dried fruit. Like most Guernsey recipes there is no definitive method to make gâche, this is simply one of the many variations. Gâche is best served toasted with Guernsey butter. In Guernésiais, gâche means cake, however, you will find that it's more like a fruit bread than a cake.

1lb wholemeal or plain white flour
½ lb Guernsey butter
2 eggs
4oz mixed peel
1lb sultanas/currants
¼ pint Guernsey milk
2oz yeast
Pinch of salt
2oz dark brown sugar

Method

Preheat oven to 200°C, gas mark 6. Grease and line a 1 kg loaf tin. Cream butter and sugar together, add the eggs and then mix in the flour. Warm the milk. Add the yeast & a pinch of salt. Pour in the warm milk. Add the fruit, while mixing & kneading the dough. Leave to rise for two hours. Transfer dough to the loaf tin and cook until the top is golden brown.
---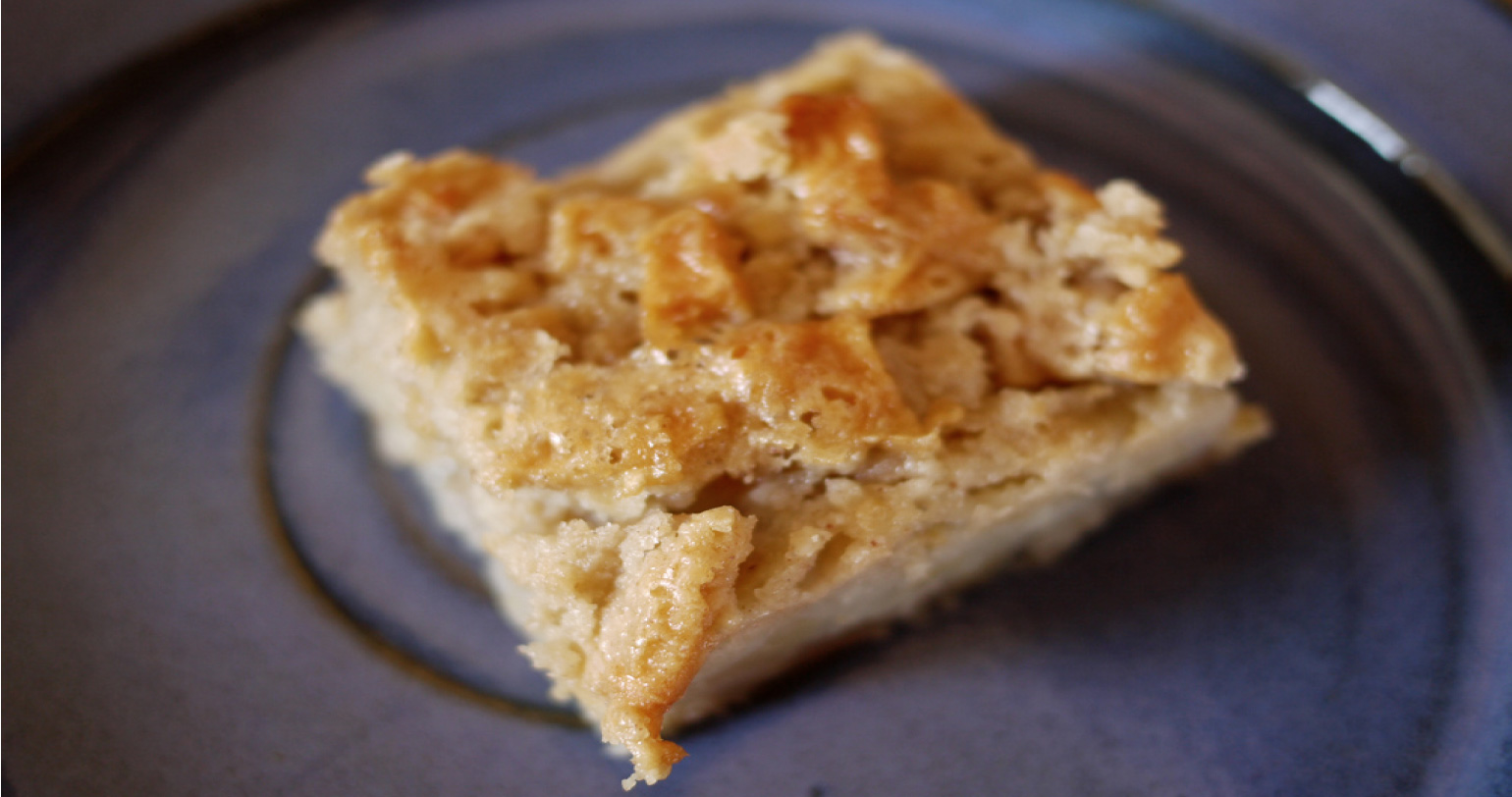 Guernsey Gâche Mélée

Gâche Mélée (pronounced Gosh Mel - are) is a traditional Guernsey apple dessert. In Guernésiais, gâche mélée means cake mix.


1lb wholemeal/plain flour
8oz Guernsey butter/Suet
3 eggs
1lb cooking apples
1lb dark brown sugar
1 teaspoon cinnamon
1/4oz nutmeg

Method


Rub the butter or suet into the flour until like breadcrumbs. Add all other dry ingredients, apple and mix well. Add egg and water and mix well. Transfer to a baking tin and bake at 180C/ Gas 2-3 for one to one and a half hours. Serve warm or cooled with fresh Guernsey cream or custard.
---
Guernsey Biscuits


A Guernsey Biscuit isn't a biscuit at all … it is savoury rather than sweet and more like a bread roll than a biscuit


1lb wholemeal or plain white flour
4oz Guernsey butter
1oz yeast
½ oz of sugar
½ oz of salt
8 fl oz warm Guernsey milk

Method

Mix the salt and sieved flour. Cream the butter, yeast and sugar and add the warm milk. Leave for in a warm place for ten minutes. Add the flour to the mixture and knead well. Cover the bowl and leave to stand in a warm place for 1 hour 30 minutes to rise.

After the dough has risen knead it again on a floured board and separate into balls. Transfer the balls to a greased baking tin and leave to stand for another 20 minutes. Then bake in a preheated hot oven 200°C or Gas mark 6 for 20 minutes.
---
Bean Jar

No two Bean Jar recipes are alike; there are even variations between the islands of the Bailiwick!
Due to the wide variation in recipes we share, what could be Guernsey's best bean jar recipe! The recipe was revealed in 1999 when the Guernsey Press ran a competition in conjunction with the local Salon Culinaire. The winner was Ruth Vaudin recipe which is illustrated below!

500g butter beans
500g haricot beans
1lb onion
1.5 lb brisket
Marrow bone
2 tsp mixed herbs
Salt & pepper

Method

Soak the beans overnight. Put everything into a stone bean jar and cover with boiling water. Place in a hot oven. Bring to the boil, lower to Gas 2 mark /150C and cook overnight.

Next morning chop up the meat and take out the marrowbone. Add water if needed. Put back in oven at gas mark 6/200C for one hour. Serve with plenty of crusty bread.
---
Ormer Casserole

There are numerous ways to serve ormers, however, this casserole dish seems to be the most popular of all the traditional recipes.


Ormers (as many as possible!)
2 strips of belly pork
2-3 carrots
2-3 shallots
Guernsey butter
Bay Leaf
Salt and Pepper

Method


Soak the Ormers in fresh water for an hour. Remove the ormers from their shells, scrub, trim gently and beat with a mallet until flattened. Cover the ormers in flour and brown in a frying pan with the Guernsey butter and a little oil.

Cut the belly pork into cubes and place in a casserole dish. Slice the carrots and add to the casserole dish together with the bay leaf and season with salt and pepper. Add the browned ormers to the casserole dish.

Place in pre-heated oven at 160/170C for two hours. Turn down the oven and allow the casserole to simmer until cooked. Enjoy with a Guernsey Biscuit and Guernsey butter!