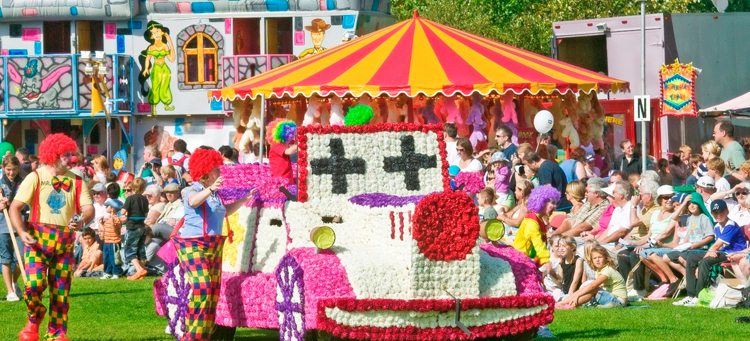 Image from VisitGuernsey.Com by Chris George

Run by the Northern Agricultural and Horticultural Society, the North Show, which is held over two days, takes place in Sausmarez Park and attracts thousands of visitors each year. The show is the last of three agricultural and horticultural shows held in August, the West Show usually having taken place the week before and South Show before that.


The Show, which has been running for over 80 years, features traditional Guernsey Livestock competitions, exhibitor displays and arena events such as tractor drives. Entertainment comes in the form of traditional Punch and Judy shows, music in the beer tent, and a fun fair.


The highlight of the summer shows is the Battle of Flowers, which is held on the afternoon of the second day. Floats, designed by islanders, are paraded around the showground and vie for the "prix d'honneur" and other accolades as voted by the public.


According to the Northern Agricultural and Horticultural Society's website:


"Until the early 1960's the parade of floats culminated in an actual "battle" when the floats were stripped, and competitors and spectators alike bombarded each other with the flowers. Over the years though, the battle became rather too excited. Sometimes not just the flowers were thrown! Nowadays the floats survive to take part in an illuminated parade in the evening, culminating in a firework display."
Locals are heard to say that once the shows are over, the summer is over, however, don't you think it is a great way to celebrate the sunshine?