A stunning, sizeable piece of drapery, the Bailiwick of Guernsey Millennium Tapestry showcases 1,000 years of island history across 10 beautifully embroidered panels. It is located in the Guernsey Tapestry Gallery, which can be found on College Street in St Peter Port, on the lower floor of the Dorey Centre. It can also be reached via St. James Street.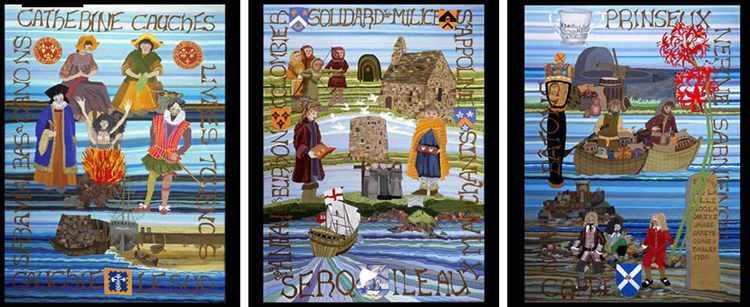 Images via Guernsey Tapestry


Each panel of embroidered canvas work showcases a single century of Guernsey's rich, fascinating history. The sections are each complemented by an audio guide outlining the specific time period. A millennium project, the Tapestry was created by local residents, hand-sewn over a period of 2 years. Each panel also signifies one of Guernsey's 10 parishes. Learn more about the story here.


This beautiful attraction is maintained by the Millennium Tapestry Trust. Its creation and maintenance have been financed entirely by the community. Volunteers, as well as donations, are always welcome. Many residents and tourists who stop by are lucky enough to find one of the original contributors holding down the fort and they are always happy to share their story of working on the Tapestry.


The Bailiwick of Guernsey Millennium Tapestry is available for viewing Monday through Saturday from 10am until 430pm. During the Winter, from November until Easter, it is available only on Thursdays from 10am to 4pm. The cost is £4.75 for adults and £4.00 for seniors and students. Visit the website to learn more.